Kerala, a state on India's tropical Malabar Coast, has nearly 600km of Arabian Sea shoreline. It's known for its palm-lined beaches and backwaters, a network of canals. Inland are the Western Ghats, mountains whose slopes support tea, coffee and spice plantations as well as wildlife
Kumarakom
The village of Kumarakom is a cluster of little islands on the Vembanad Lake and is part of the Kuttanad region. The bird sanctuary here, which is spread across 14 acres is a favorite haunt of migratory birds and an ornithologist's paradise. Egrets, Darters, Herons, Teals, Waterfowls, Cuckoo, Wild Duck and migratory birds like the Siberian Stork visit here in flocks and fascinate all visitors.
An enchanting backwater destination, Kumarakom offers visitors many other leisure options. Boating and fishing facilities are available at the Taj Garden Retreat, a sprawling old bungalow-turned-resort.
Waterscapes, the backwater resort of the Kerala Tourism Development Corporation has independent cottages built on stilts, set amidst coconut groves offering a panoramic view of the backwaters. Holiday packages involving houseboats and traditional Kettuvalloms (rice barges) offer great experiences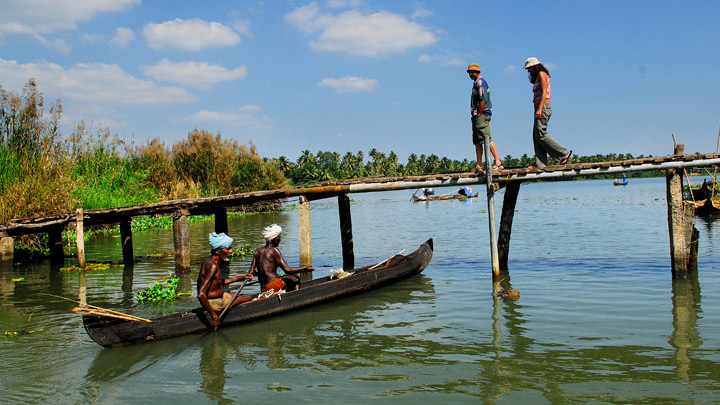 Periyar Tiger Reserve, Thekkady
The very sound of the word Thekkady conjures up images of elephants, unending chains of hills and spice scented plantations. The Periyar forests of Thekkady is one of the finest wildlife reserves in India. Spreads across the entire district are the picturesque plantations and hill towns that nestle beautiful trails for treks and mountain walks. It is one of the oldest tiger reserves in the country and the forests of Periyar is embellished by the presence of endangered species including White Tigers.
To explore the wilderness of Periyar Tiger Reserve tourists have many options like boating to trekking.
Boating in Periyar Lake 
The best way to enjoy Periyar is from the edge of your seat on a boat. If you are a little more adventurous, then you can take a bamboo raft and row while the wild watches you. The Bamboo Rafting at Periyar is available in two slots – Full day and Half day. To know the rate of Bamboo Rafting, click here
Trekking Trails
The guided day trek at Periyar: The Periyar Tiger Trail, an adventure trekking and camping; Border Hiking – Protection oriented range hiking; Bamboo Rafting; Jungle Patrol, Shepherding the jungle; Tribal Heritage – A peep into the past; Jungle Inn – Jungle in the night
Pookkot lake, Wayanad
A natural freshwater lake surrounded by evergreen forest and rolling hills. A freshwater aquarium with a large variety of fish is an added attraction. Tourists can also avail of boating facilities, children's park, and a shopping center for handicrafts and spices.
Wayanad lies at an altitude varying from 700 – 2100 meters above the sea level. The district has the highest number of tribal settlements in Kerala. The hill ranges of Vythiri taluk (taluk is a subdivision of a district), through which the road from Kozhikode ascends the Wayanad plateau over the mind-boggling bends and ridges, are the highest locations of Wayanad district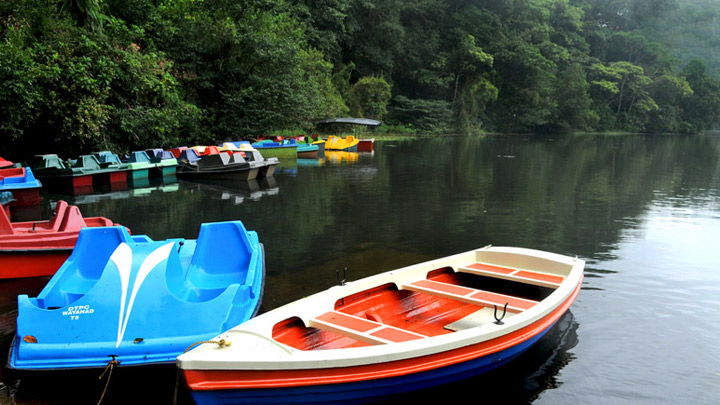 Kollukkumallay – the highest tea garden in India
Located in steep, rugged terrain, Kollukkumallay in Munnar is the highest tea garden in the country at 7900 ft. Accessible only by jeep, a visit to the estate includes a drive around the tea fields and a tour of its factory. What gives Kollukkumallay tea its special flavor is presumably the high altitude.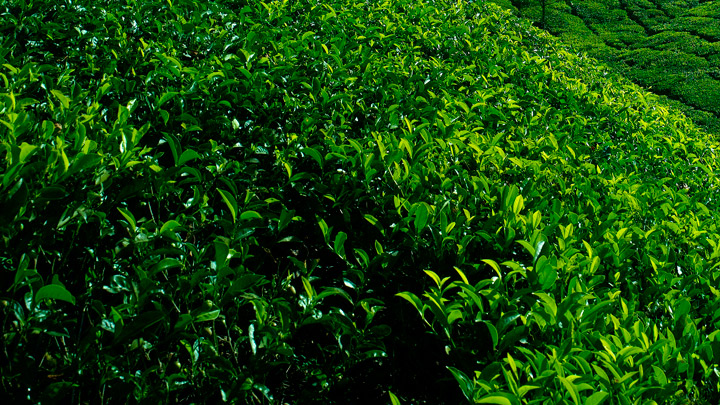 Kakkathuruth – the Island of Crows
Kakkathuruth is a spectacular tiny island on Kerala's backwaters in Alappuzha, has been listed in National Geographic's 'Around the World in 24 Hours,' a photographic tour of travel-worthy spots in the world. The emerald-fringed 'Island of Crows' is a quiet place surrounded by Vembanad Lake, offers a haven for birdwatchers.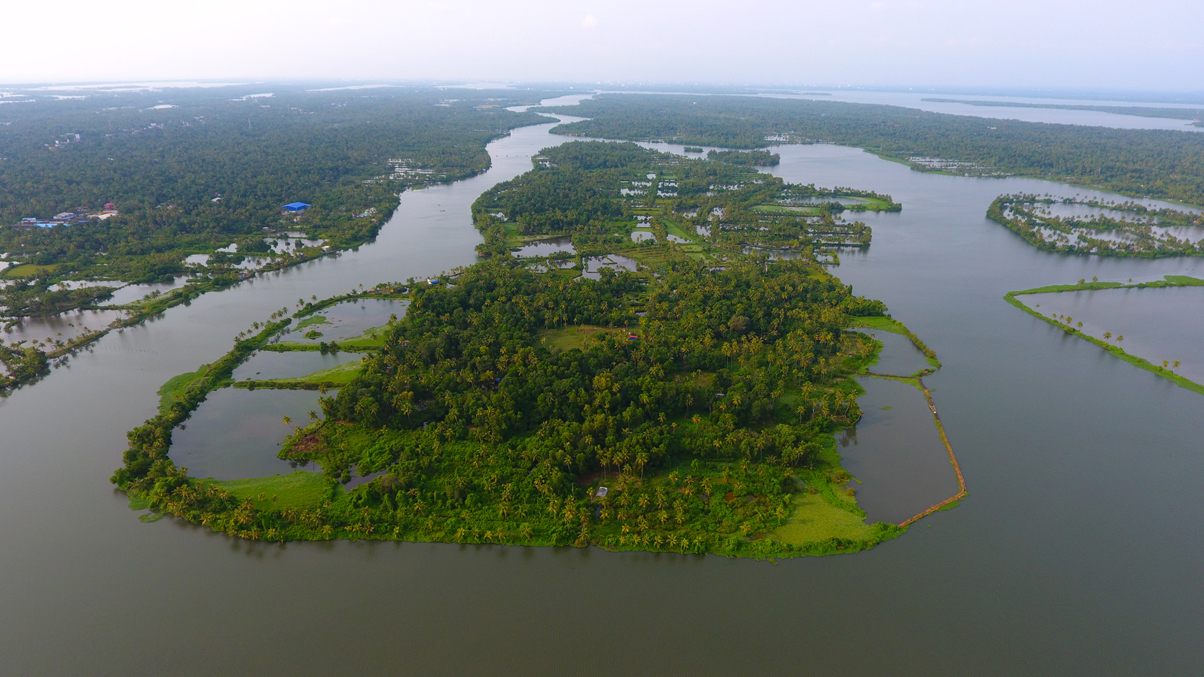 Malarickal Village Tourism
Nestled far away from the chaos of urban life, there exists a quaint hamlet in the heart of Kottayam district. All it offers those who stumble upon it are a soothing experience of village life amidst endless paddy fields. Its massive stretches of backwaters and intrinsic natural beauty are slowly attracting tourists who seek a rendezvous wholly detached from their routine. Malarickal or Malarikkal is a jewel that people in Kerala are only slowly awakening to themselves.
It isn't just the emerald of its backwaters that awaits you here, as Malarickal lures you in with breathtaking shades of pink as well. The water lilies (Nymphaea Stellata or amble in local parlance) greet the terrain during the end of the monsoon rains, which usually occurs annually between September and October. A carpet of pleasant pink envelops the entire region in a breathtaking formation that is hard to explain with mere words. They spread out over 600 acres of land, and locals advise that the best time to witness this phenomenon is morning and evening. These visuals alone draw in bigger crowds each year, as words spread of this natural wonder.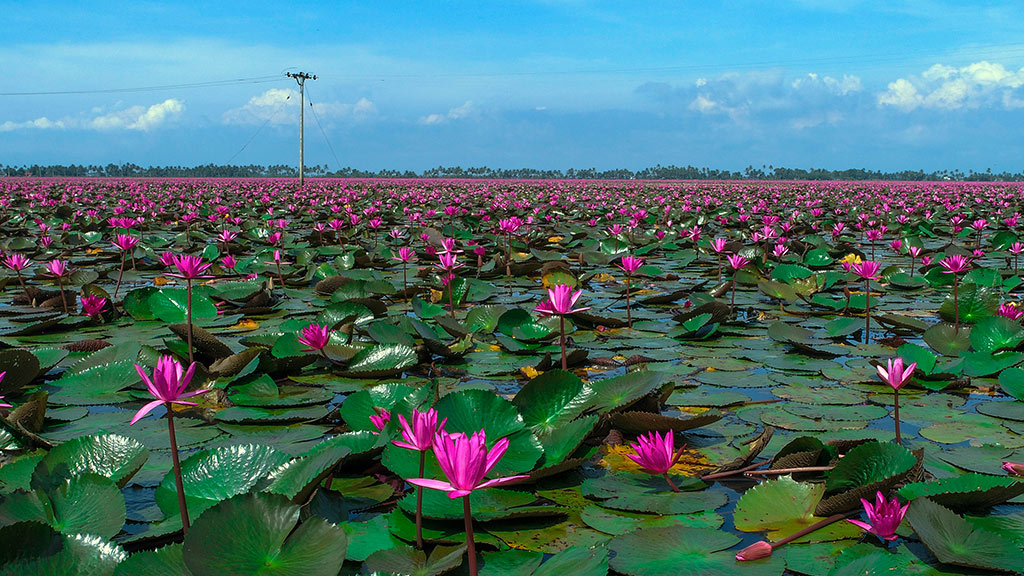 llikkal Kallu, Kottayam
Illikkal Kallu is a popular tourist attraction situated at 6000 ft above sea level at Kottayam. Three hills, each rising to 4000 ft and above together form the Illikkal hills. Each of these hills has a peculiar shape. One of the hills resembles a mushroom and is called Kudakallu (umbrella-shaped rock). The second hill has a small hunch on the sides and is therefore referred to as Koonu kallu. (hunchback rock). It is one of the highest peaks in the Western Ghats.
Poovar Beach and Backwaters
Poovar Beach offers one a wonderful view of the formation of the backwaters. The golden sands are home to some of the best picnic spots in the area. This area is located at the juncture of the Neyyar River joining with the Arabian Sea. Boating trips in the area are exquisite and can be arranged at nominal rates. Located 12 km from Kovalam in Thiruvananthapuram, here one gets to see a slice of life in a coastal village. It is a beautiful location that is garnering more attention with each passing year